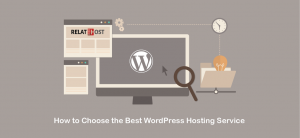 You should engage the services of a WordPress hosting provider for your site. You are already aware that not all hosting companies are similar and there are many to pick from, it is only safe to be selective and careful when choosing a WordPress hosting service that meets your present requirements and in the future as you grow your business. We have put together a list of important factors to consider before making a decision.
Specialists: You have to get a web hosting provider that specializes in WordPress and as well has a great reputation for their technical support and service. Linux Servers: WordPress was actually written for Linux Servers so that's why there's less opportunity of running into technical challenges.
Up-Time Reliability: You need to avoid a hosting provider that always goes down! When your website visitors can't access your site, they proceed to your competition and they may not return again to your website. This will cost you cash in lost sales and a negative feedback. A reputable WordPress Hosting company has 99.9% reliability.
Fast Loading Servers: You need your site to load up faster for your visitors. A lot of people won't wait any longer than 5 seconds for a website to upload and they only hit the back button and then proceed to your competition.Only the best WordPress hosting service provides non-crowed servers which enable your website to fast load up for your visitors.
Database Backup: This is a must, should your website or database become hacked or corrupted. The best WordPress hosting service gives automatic back-ups of your site and will re-install a version of your site to a date before the hack or corruption took place.
Secure Servers: Nearly related to this, is the security checking of the servers. A reputable WordPress Hosting provider always checks their servers from attacks at all time! They conduct regular software updates in order to ensure the continuance and stability of service.
Technical Support: If your site is down for any reason, it's important that you can call your website provider regardless of the time of the day. The good WordPress Hosting Providers give technical support at all time normally via a support ticket system and will get you up and running without any delay. Technical support has to be inclusive of your plan (regardless of how modest) and be unlimited as well. You just can't tell!
Installation: When it comes to installation, installation of WordPress is very easy, especially if you have selected a dedicated WordPress hosting provider. A good host will allow you to install your site through your control panel making use of 'Softaculous Auto installer'. Softaculous Auto installer permits you to install software easily that might otherwise be challenging to install. Cost of Hosting: Normally, the cost of hosting your site will be influenced by the plan that you choose and your requirements. However, no matter the plan you decide, it's vital to have the option of paying either every month or every year and be covered by a Money Back Guarantee usually 30 days when you're in need to find the best WordPress hosting service.